Knowledge about disability and inclusion: results from an online teachers' training program
Parole chiave:
formazione docente, inclusione, disabilità, ricerca esplorativa
Abstract
Abstract – The paper presents the outcomes of a training program carried out by the UNIBG Special Education researchers in compliance with the Law 'In-service training of teachers' staff for including students with disabilities' (Law no. 178 /2020; Ministerial Decree n. 188/2021) aimed at providing teachers of the Bergamo area with knowledge about disability and inclusion. Specifically, the article investigates and critically reflects on teachers' knowledge to detect any changes that occurred after attending the UNIBG training course, with respect to the disability construct (definition, terminology, typologies) and the teaching strategies useful for supporting school inclusion concerning different types of disabilities, as well as the perceived degree of competence in the direct application of these strategies in the classroom.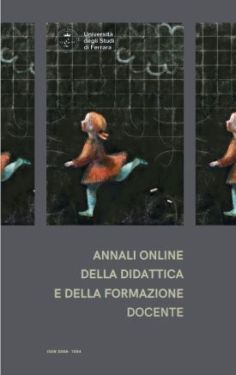 Downloads
Sezione
II SEZIONE - Formare insegnanti in ottica inclusiva
Licenza
Copyright (c) 2023 Annali online della Didattica e della Formazione Docente
Questo lavoro è fornito con la licenza Creative Commons Attribuzione - Non commerciale - Non opere derivate 4.0 Internazionale.