Alcune osservazioni sul ruolo della Galleria Continua nel mercato dell'arte contemporanea tra Cuba e Italia
Parole chiave:
Continua Gallery, Cuban art, art market, La Habana, gentrification
Abstract
The article aim is to analyse the strategic role of the Continua Gallery in the contemporary artistic market, especially for what concerns the sale of Cuban contemporary artists' works. So, different perspectives are analysed through which you can read the opening of a home of the gallery in La Habana (2015), a difficult city as far as its economy but artistically really involving. In the article, first it is investigated at a general level the not-privatized structure of the Caribbean isle's artistic system, then the birth of Arte Continua is described, later the prices of the sold stocks of the international auction houses, such as Phillips, Christie's and Sotheby's, together with the presentation of the works in national and international fairs are shown and finally it is theorised a model of a new artistic gentrification that sees the Italian gallery as protagonist.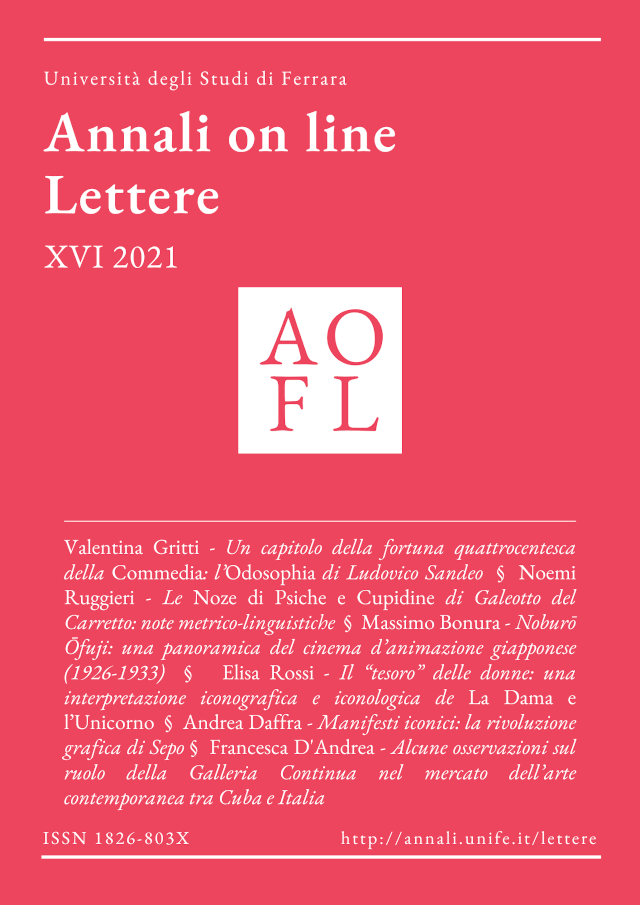 Downloads
Sezione
Arte e Cultura Visuale